In the fast-paced world of digital marketing, a franchise's success relies on a strategic combination of innovative techniques and proven methodologies. And as digital marketing for franchisescontinues to evolve, business owners must adopt a flexible approach to reach their target audience effectively.
A forward-thinking franchise development marketing agency like Integrated Digital Strategies (IDS) recognizes the significance of staying ahead of the curve. We employ cutting-edge technologies and tailor-made strategies to ensure franchises capitalize on the full potential of digital marketing.
Over the years, we've worked with franchises across all industries, from food to automotive and nearly everything in between. And in this dynamic digital marketing era, we've witnessed that franchises possessing certain qualities can excel. Let's talk more about how you can actively implement the following five key qualities that successful franchises have in common to boost your business.
Embrace the Impact of a Franchise Digital Marketing Agency
A successful franchise business understands consumers increasingly turn to online channels to discover, research, and engage with businesses in today's tech-savvy world. From social media platforms and search engines to emails and content creation, marketing offers many opportunities to connect with your target audience.
And in the highly competitive franchising landscape, digital marketing can be a game-changer. With an ever-increasing number of consumers relying on the internet for help making informed business decisions, acquiring services, or simply making purchases, franchises must embrace digital marketing to stay relevant and competitive.
A reputable and reliable franchise marketing team like IDS will equip you with a comprehensive digital marketing strategy that encompasses various elements such as search engine optimization (SEO), social media marketing, content marketing, email campaigns, paid advertising, and more.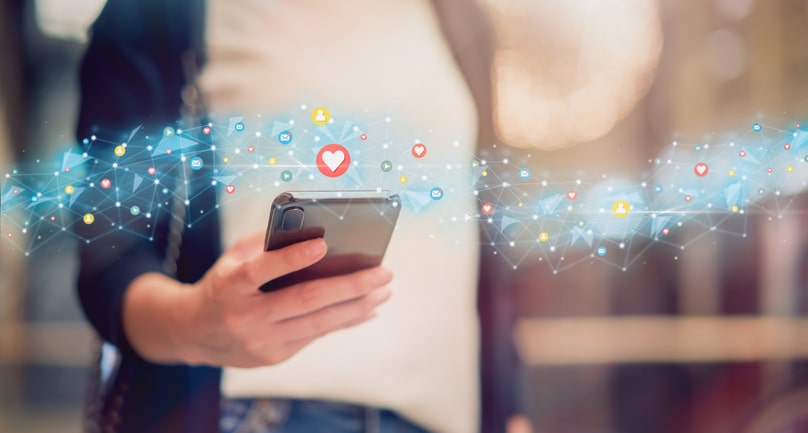 For instance, franchises that leverage social media platforms like Facebook, Instagram, and Twitter can foster meaningful connections with their audience, build brand loyalty, and showcase their unique selling propositions.
Moreover, by optimizing their websites for search engines and creating high-quality content, franchisees can improve their online visibility and attract organic traffic, resulting in more qualified leads and potential franchisees. IDS offers innovative strategies to help you stand out, thrive, and connect with your target audience effectively.
Implement a Comprehensive Franchise Development Marketing Plan
A second crucial quality shared by successful franchises is the utilization of a comprehensive marketing plan. This plan serves as a roadmap for the franchise's growth and expansion goals, laying out the steps needed to attract potential franchisees and build a network of successful partners.
Franchise development marketing goes beyond promoting products and services to end consumers; it involves enticing potential franchisees to invest in the franchise system. As the backbone of franchise expansion, a well-crafted marketing plan is vital for attracting qualified candidates who share the brand's vision and values.
An effective marketing strategy includes targeted lead generation, brand positioning, and persuasive messaging. It identifies the ideal candidate profiles for potential franchisees and tailors marketing efforts to appeal to those individuals. Moreover, a successful franchise development plan incorporates digital marketing initiatives, such as online advertising,lead nurturing through email campaigns and engaging content creation.
Digital marketing tools like Google Ads and Facebook Ads can be instrumental in reaching potential franchisees, as they allow for precise targeting based on demographics, interests, and behaviors. By directing these ads to individuals who match the ideal franchisee profile, franchises can increase the likelihood of attracting qualified leads and expanding their franchise network.
Leverage Data-Driven Decision Making
Data-driven decision-making is a hallmark quality of thriving franchises in the digital marketing sphere. Successful franchises use analytics to gather valuable insights into customer behavior, marketing campaign performance, and overall business operations.
Digital marketing offers a wealth of data that can be analyzed to identify the target audience's trends, preferences, and pain points. Tools like Google Analytics provide in-depth information about website traffic, user behavior, and conversion rates, empowering franchises to optimize their online presence and marketing efforts.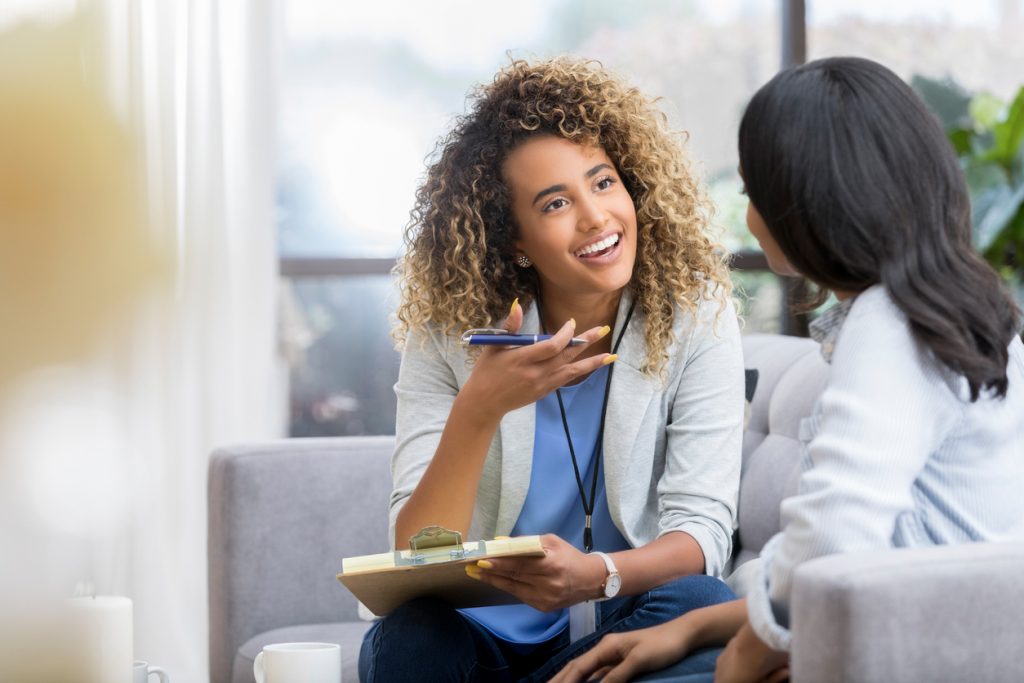 Franchise digital marketing agencies like IDS harness the power of data analytics to optimize marketing efforts, track ROI, and identify areas for improvement. By relying on data-driven insights, franchises can refine their marketing strategies, allocate resources more effectively, and ultimately achieve a higher return on investment.
Foster Personalized Customer Experiences
Another critical quality differentiating successful franchises is their dedication to creating personalized customer experiences. Consumers appreciate brands that understand their needs and preferences and deliver tailored content and offerings.
Personalization goes beyond addressing customers by their names in emails. Successful franchises use data collected from various touchpoints to craft personalized marketing messages that resonate with individual customers. Personalization can extend to website content, product recommendations, and customer service interactions.
Tailoring marketing content and promotions to specific customer segments enhances customer satisfaction and boosts engagement and conversion rates. By employing customer segmentation, personalization tools, and targeted messaging, we help franchises establish stronger connections with their audience.
Adapt and Innovate Continuously
The digital marketing landscape is ever-evolving, with new trends and technologies emerging regularly. To stay relevant and competitive, franchises must be agile and open to embracing new strategies and tools if they want to remain competitive.
The rise of emerging technologies such as artificial intelligence, virtual reality, and voice search presents new opportunities and challenges for franchises. Embracing innovations such as chatbots for customer service, AI-driven content generation, or augmented reality for product demonstrations can give franchises a competitive edge and enhance the customer experience if done the right way.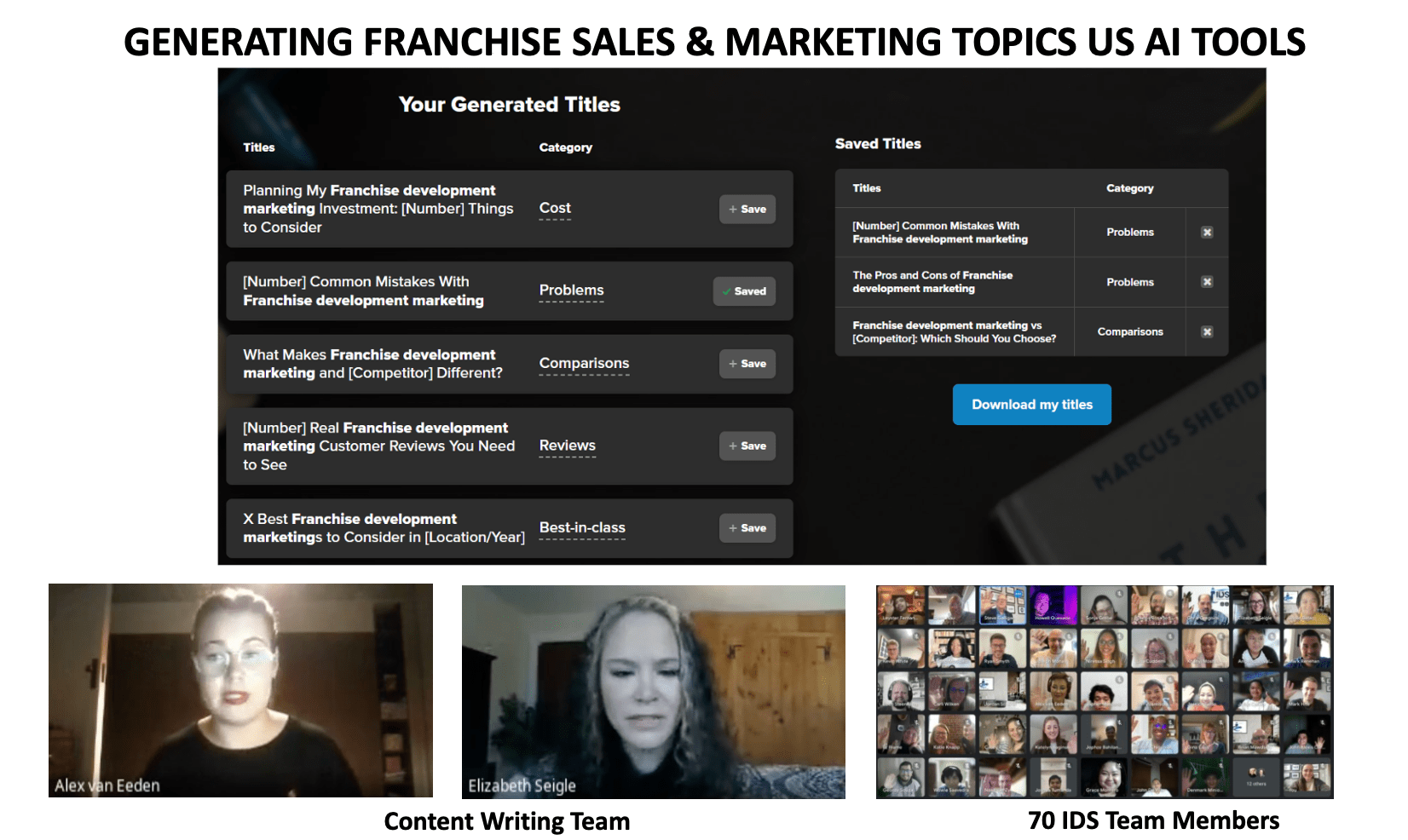 In order to generate quality marketing material, it's crucial to know how to implement these technologies. At IDS, we ensure we stay on top of the latest technologies and systems to keep franchises at the forefront of the industry. By staying current with the latest trends and adopting innovative approaches, franchises can maintain a competitive edge and thrive in digital marketing.
By embodying these qualities, franchises can establish themselves as industry leaders, attract qualified franchisees, and pave the way for a successful and enduring future. With the guidance of a trusted franchise digital marketing agency likeIDS, franchises can navigate the complexities of the digital landscape and capitalize on the vast opportunities it offers.
Contact us today to learn more about how IDS takes franchise development to new heights with digital marketing.
Integrated Digital Strategies is pleased to announce it has hired digital marketing industry veteran Brent Nau as Chief Operating Officer. Nau joined IDS in its downtown Orlando, FL, office on November 15, 2021.
Steve Galligan, CEO of IDS, is pleased that Nau has joined the IDS team, bringing his breadth and depth of experience growing and scaling digital marketing companies. "IDS nearly doubled sales this past year, and Brent will play a major role as we continue to rapidly expand into the franchise digital marketing space in 2022," said Galligan.
Nau joins Integrated Digital Strategies from Thrive Internet Marketing Agency, where he held the role of Director of Operations for the past five years. In that role, he planned and reported on resource allocation across all client campaigns and department P&Ls. Nau brings 20+ years of digital marketing expertise, along with experience in vendor and technology evaluation for improving marketing processes, driving revenue generation, and ensuring smooth integration internally and with clients.
"I am excited to be joining the experienced leadership team at IDS and helping the agency move to the next level," said Nau. "IDS's customer-centric approach, highly skilled team members, and intimate knowledge of franchise marketing has the agency poised for even greater success in 2022 and beyond."
At IDS, Nau will have a broad remit and be responsible for driving annual profits and continual growth through identifying and driving improvements in service, quality, and internal operations. He will also be responsible for implementing new strategic initiatives and maintaining strict oversight on profitability for the agency. This all comes as IDS is poised for exponential growth in 2022 as the world moves out of the doldrums of the global pandemic and the agency takes advantage of recent growth in the franchise industry.
Also on the table for the new Chief Operating Officer: continuing to build a strong and resilient customer-facing team, improving resource planning to exceed client expectations, and growing the company's digital marketing offerings across SEO, PPC, Content Marketing, Social Media, Website Development, and all other related digital projects. Nau will also lead the firm's efforts to evaluate, prioritize, and implement new technologies to improve and optimize marketing processes, drive revenue generation, and ensure a consistent and improved customer experience.
IDS and its augmented leadership team look forward to meeting the needs of a growing roster of franchise development and franchisee clients as it continues to grow its reputation for excellence in all things digital marketing. Whether you're looking to build a new website for your business from the ground up, optimize existing content, launch a PPC or email drip campaign, or simply evaluate your existing content, IDS can help. Reach out to IDS directly to find out what they can do for you.
Read the full press release here.
By: Alex Lockie, editor at 1851Franchise.com
Years ago, Mark Renehan took a job at a local trampoline park, Altitude Trampoline Parks. Within months, he found himself on the corporate team, working in the wide world of franchising and flying across the globe to build the brand. By the time he left that company, he had helped grow it to over 82 locations worldwide.
Today, as the director of franchise development at Integrated Digital Strategies, a full-service marketing agency that works extensively within the franchising space, he's helping brands like his old trampoline park to find that next bounce back after the COVID-19 crisis.
1851 caught up with Renehan to learn about his tips of the trade in the franchise development space.
1851 Franchise: Tell us a little bit about your company.
Mark Renehan: What we do at IDS is primarily digital marketing. We primarily focus on franchising with franchisors, but we also work with franchisees. Franchise development is our bread and butter. We do web development, we do social media marketing and we're big into SEO and digital advertising. We also do content marketing and can do all the content and blogging and creating personas in-house, as well as competitive analysis for all of our brands. We're also in the B2B services, offering B2B marketing in all industries.
We're a full-service digital marketing company, and IDS has also moved into franchise sales. We're able to help franchisors qualify leads and take them down the sales process.
1851: How did you get into franchising?
Renehan: I've been franchising for about eight years, I started with a company called Altitude Trampoline Parks. I was one of the first over there. I started as a general manager and quickly moved into corporate. About six months after I got offered the job, I was moving to Texas to be near corporate headquarters. I'm from the Northeast, so it was a big deal moving to Texas.
From there I pretty much helped grow the company worldwide. I traveled internationally quite a bit and took Altitude to 10 locations in nine different countries. I started at the fourth park ever, and when I left, we were at 82 locations all over the world.
For the last two or three years, I've been in franchise development helping the company grow. I had developers under me that would take franchisees in the opening process and helped the CEO drive growth.
1851: Are there any keys to consistent franchise growth?
Renehan: I think the key indicator for franchises continuing to grow is having great franchisees and strong unit-level economics.
Starting with the franchisees, it comes from great word-of-mouth. You can start using them as your personas and your ideal customers and growing from what you know.
Having strong unit-level economics is critical. If a franchisee is performing where it needs to, more people want to join.
Having a unique product and service is a big factor. Obviously profitability factors in. You just have to find the right markets and right franchisees and they'll be huge advocates for you.
1851: What are the biggest hurdles to successful franchise growth right now?
Renehan: It's tough. Obviously right now everyone is focused on COVID, but going back to before the pandemic, something most franchisors struggle with for growth is insufficient capital. You want to be able to market yourself and advertise yourself to customers. Get your name out there so you don't just do referrals. It's a great way to start but once you hit that plateau, you want to be able to put marketing dollars to drive growth.
You need the people and culture in place to be able to attract and keep the right people to service the qualified leads you just put money and marketing towards. That's huge — probably the biggest thing people run into. When we first started, I was lucky we had a phenomenal, Disney-esque culture. People came to see us and wanted to be a part just because of the way we were and the way we acted.
1851: How did the COVID crisis affect franchise growth opportunities?
Renehan: Obviously right now the biggest thing in all the leads we have is COVID-19. Every single person is concerned about it. They're thinking, "Should I put my money toward this franchise when they might not be ready for this crisis?"
The number-one thing people are finding out right now is what happened to the business sector. At Altitude, parks are closed, so people are wondering what the next steps are. They were asking, "What are the steps to keep this profitable?"
The biggest thing is businesses filling to find out they're an essential business. It could branch quite a bit. Essential business is not only what you think. It could be lawn care or outdoor things that keep business moving forward.
Obviously the different protocols for COVID-19 and being able to put those plans in place and is helping a lot of franchisors. Now it's more important than ever to decide where you want to put your money to be most effective to determine how you'll drive your leads and make sure business keeps running forward.
1851: Are there any common mistakes you see franchisors making when trying to grow?
Renehan: I would say the biggest one is probably getting ahead of themselves. One mistake I've seen firsthand, and been part of groups that did it, is getting ahead of themselves with advertising and bringing in too many franchisees they can't handle. It's not quantity over quality, you want to bring in leads at a pace that allows you to support them properly.
People focused on the numbers forget about customer service. My biggest focus is keeping the capacity and getting the most franchises, but giving them the quality they want and deserve. It goes back to the support structure and recruiting and retaining the right people.
1851: What are your biggest goals/plans for 2021?
Renehan: So 2021 is pretty exciting for us at IDS and the entire franchise industry. Franchising has shown to be resilient and continues to grow amid the pandemic. I have franchisors who have done better than the previous year, and having the right plan and structure in place for 2021 will really help the entire industry and economy.
Our personal goals are to continue to help franchisors grow and put marketing dollars in the right places. It helps our company and the entire franchise industry. IDS is in a great place to continue to attract big clients
If you're looking for the next thing, it's a great time to get into franchising.
A great deal of our society is driven by what we read, see, and hear online, and someone's first impression of your brand is often made by your website's homepage. With that said, those critical few seconds after they click on it could be the difference between acquiring their business and never hearing from them again. 
At Integrated Digital Strategies (IDS) we believe the power of your digital footprint is invaluable, and we've seen how it can impact results in the franchise space - having a team of detail-oriented marketing experts by your side will help your business stand out. 
1. High Resolution and Eye-Catching Imagery & Videos
Did you know that a drop in user engagement could be directly related to your website's images and videos? Images and videos have a huge impact on SEO  — low-quality and slow-to-load content could be why your most important pages aren't ranking well. 
Videos have become one of the most popular ways to consume content, which is a trend that isn't changing anytime soon. YouTube is the second most-popular search engine, with over 1 billion unique visitors each month. If you want to make sure your brand is staying relevant and adopting SEO best practices, having quality videos and visuals is crucial. 
2. Clear Placement of CTA & Lead Capture Forms
Lead forms and call-to-actions (CTAs) are the last stop before conversion, so you need to make sure your users have a clear understanding of where they should go if they're interested in learning more. It's essential to have a clearly-placed CTA on all your content, from your company homepage to your next social post. By simply adding a CTA to your Facebook page, studies have shown that you can increase your click-through rate by 285%. 
Examples of effective CTAs:
We want to help you enhance your digital marketing presence. Contact a member of the IDS team today for a complimentary website audit.
Do you still have questions about SEO best practices? Get in touch with a member of our team today and we can share our expert insight.
If you want to learn more about what's happening in your industry, we can help you! Fill out this quick form and get your own copy of our industry report.
When you target a specific audience, it's also important to fully understand the reader's perspective. Does your current layout clearly show the next steps your reader needs to take? If you mention a form on your website, is it already in front of the reader, or do they have to go through multiple steps to find it? These are all questions to consider when thinking about effective franchise web design.
3. Educational Material: Blogs, Resource Library, FAQ
If you ask for someone to take action and invest in your vision, it's important to give them something useful first. Sure, your users might think about asking you questions directly, but it makes much more sense to position your brand as a resource. At IDS, our content and franchise web design teams will take the time to understand your brand, process, industry, and business model. We look for what stands out about your opportunity and uncover areas that you could focus more heavily on, so your leads are more qualified, not confused. 
The stages in a buyer's journey are often initial research, education, and then reach out/decision. You may not realize it, but your website is the bridge between a user and a qualified/ready lead. You're not just a salesperson, but an educator and thought leader in the industry. By highlighting a blog, resource library, or FAQ page on your main navigation, your users will know exactly where to go if they have questions.
4. Testimonials, Awards, Highlight Top Numbers
One of the most important steps in any buyer's journey is validation. There are plenty of franchise brands out there that say they offer the top opportunity in their industry. However, those words mean nothing without something to back them up. By showcasing awards, testimonials, and even growth numbers, you can help your leads validate their potential investment. 
Awards will show that your brand has been recognized by esteemed members of your industry. Testimonials from existing franchisees could help your leads hear from likeminded people who were once in their shoes.  And by highlighting the year-over-year-growth, leads will see your brand as an opportunity, instead of questioning your credibility. 
5. Clear and Clean Navigation
Finally, the most important part of good web design for franchise brands is laying everything out in an easy-to-understand format. If someone new to your opportunity has just found your homepage, how are they greeted? Are all the pages that are important to them clearly displayed on your site navigation banner? If so, are there too many tabs, or are topics organized as relevant dropdowns? The people who visit your site are giving you their time. They should leave with all or most of the information they need, not frustrated and potentially ready to learn more about your competition. Here's a list of some of the most important pages to have on your franchise website navigation bar:
Industry/Opportunity

Training and Support

Contact Us

Resources

FAQ

The Process

Investment 

About Us

Available Territories 

Testimonials
At IDS, we believe that perfecting your digital marketing campaign starts with your website. If you feel like this might be your opportunity to up your game, get in touch with a member of our team, and we can provide you with a complimentary site audit to uncover any strengths and weaknesses.
If you'd like to learn more about our web design for franchise brands, feel free to reach out to the IDS team. We look forward to hearing more about your company and your goals for 2021.
AMESBURY, MASS. (PRWEB) DECEMBER 19, 2019: Integrated Digital Strategies (IDS), a nationally recognized digital marketing firm specializing in campaigns for established and emerging franchises, has moved its offices to a larger location, in anticipation of continued growth. Singled out for the last two years as a top choice for franchise marketing by Entrepreneur Magazine, IDS has added numerous nationally recognized franchise brands to its roster of clients and is looking forward to a very robust 2020.

"We couldn't be happier," said Steve Galligan, co-founder, and CEO of the company. "We've been highly focused on growing our own brand, and have essentially done for ourselves what we do for our clients on a regular basis. And it's worked."

Galligan and his local team recently packed up their belongings and moved from the coastal community of Newburyport, MA, just outside of Boston, to the edgy and industrial river city of Amesbury, MA. The company now occupies 2,500 square feet of newly rehabbed loft space that was once home to a renowned turn-of-the-century carriage manufacturer. The industrially chic space, with its high ceilings, large windows with exposed brick and wood beams, is perfect for the marketing team to conceptualize, brainstorm, and create.

The office recently hosted an open house that drew a large and receptive crowd, including U.S. Lawns, a powerhouse client of IDS. US Lawns Executives including Brandon Moxam, Vice President of Marketing, and two other executives from the company spent a productive weekend with the IDS team planning strategies, recapping the year, and celebrating. "We have a wonderful relationship with the folks at U.S. Lawns, and have been their digital marketers in recent years," said Galligan. "We know their brand inside and out, and they've trusted us to help them grow and reach their goals. And so far, every year we've been able to do that for them." Moxam agrees. "IDS is the best type of partner. They're the partner that is really an extension of our team, taking the time to get to know our brand."

Whether it be an emerging or an established brand, IDS excels at managing all aspects of company's franchise digital marketing needs and specializes in content that engages and converts.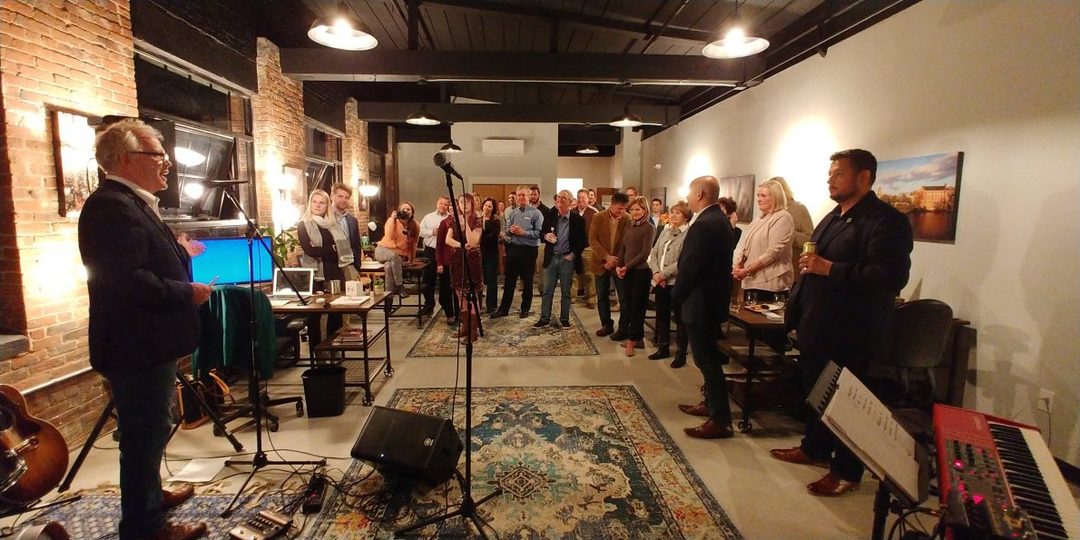 "We pride ourselves as being an all-inclusive resource for franchise brands, helping them navigate the complex landscape that is digital marketing. We like to think we keep them where they need to be — right in front of their best customer."

Reach out to IDS directly for more information on the suite of services they have to offer.

Contact: Steve Galligan (steve@integrated-digital-strategies.websitepro.hosting, 978-828-0084)