We are so excited to share that Integrated Digital Strategies will be attending and presenting at the upcoming International Franchise Association (IFA) Annual Convention. The convention will be held starting this weekend from Saturday, February 26, through Tuesday, March 1, in San Diego, California. Most of the planned events for IFA 2022 will take place in the San Diego Convention Center, while a few additional sessions will be presented at the nearby Manchester Grand Hyatt San Diego. You'll find the IDS team in the Convention Center Exhibit Hall, at booth #1802, as well as at the special roundtable discussion that we will be hosting (details below)!
IFA 2022 promises to continue its tradition of serving as one of the largest and most comprehensive conferences in the franchising industry, and we could not be more thrilled to be there in person! No matter what role your organization or you as an individual serving in the franchising community, IFA 2022 offers a fantastic opportunity for your business to gain and apply valuable knowledge shared by industry experts. The IDS team is also greatly looking forward to connecting with other attendees and showcasing how our digital marketing services can benefit your franchising efforts.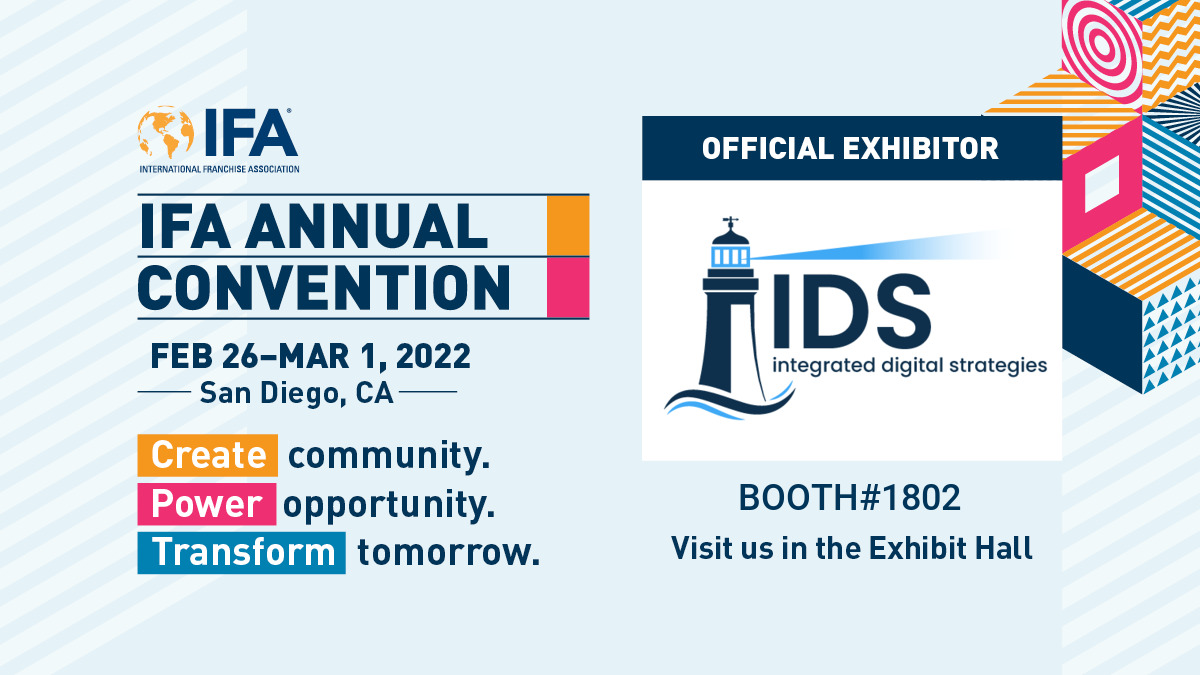 What to Expect at IFA 2022
The broad scope of IFA 2022, due in part to the large number of individuals at the conference representing a diverse set of companies within the franchising industry, offers a crucial chance for attendees to learn from perspectives they may not have encountered before. One could hear important tips on how to make their franchise a more attractive investment for potential buyers, while another might discover a more effective way for their franchises to form connections within their local communities.
Beyond the networking amongst attendees, IFA 2022 boasts an impressive roster of industry experts eager to share their insights - including your friends at IDS! At our IFA 2022 booth, we will showcase how our team has delivered measurable results that have significantly boosted our clients' ability to meet and exceed their franchising goals. This conference allows speakers to give as clear an illustration as possible on best practices and how they should be put into action.
Don't Miss the Chance to Hear From Us!
As mentioned earlier, we'll also be leading a roundtable discussion as part of the featured content at IFA 2022! Joseph Mohay, CRO and co-founder of IDS, will be facilitating at the Thought Leadership Roundtable on the topic of "How to Find Where Your Ideal Franchise Buyers Live Online and Attract them to your Brand." The discussion will take place on February 28 from 3 to 5:20 p.m. We are so looking forward to hosting this in-depth conversation that the knowledgeable franchise professionals at the convention can partake in!
If you're attending IFA 2022, we can't wait to meet with you and discuss your franchising goals and how the entire IDS team is ready to commit to helping you reach and exceed them. Don't forget to look for us in the Exhibit Hall at booth #1802 and stop by to say hello!
Can't make it to IFA 2022? Contact us today, and we'll show you what you missed, and share how our digital marketing services can improve your franchise performance!