At IDS, we've worked with dozens of franchise brands and have been a part of many successful franchisor stories. This month, Franchise Consultant Magazine features a piece on the Titus family, the founders of franchising powerhouse United Franchise Group (UFG). UFG and IDS have been partners since 2015, and we're humbled to have played a part in their franchise business growth strategy. Learn more about UFG and how they've transformed franchising over the last 35 years. 
A Family Business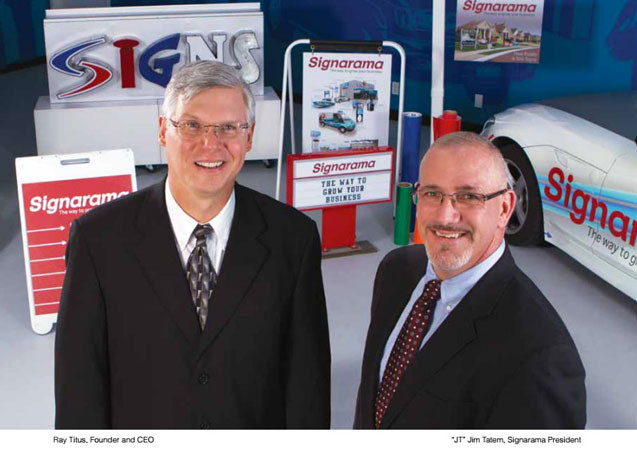 Along with his father Roy, Ray Titus opened the first Signarama store in 1986. The business had a straightforward mission: to create signs of all shapes and sizes. The business was such a success that father and son decided to franchise their concept. Today, there are over 700 Signarama stores worldwide!
Bolstered by their success with Signarama, Roy and Ray founded UFG and began building up other franchise brands. Today, legacy brands like Fully Promoted, SuperGreen Solutions, and Transworld Business Advisors make up UFG's foundation. They've partnered with over 1,600 franchisees in 80+ countries. Along with his sons, A.J., Austin, and Andrew, Ray Titus continues to grow the company by investing in new concepts.
Their focus on family, knowledge of franchising, and dedication to research and development have helped UFG to stay on top for decades. At IDS, our digital marketing services help them to stay there. 
The IDS Partnership with UFG: Master
Franchise Development
in Action
Since we at IDS began working with UFG, we've developed unique strategies for each of their brands, helping them to find their target audience of franchise investors. Throughout this time, we've analyzed the performance of their websites and digital content and have continued to adjust our strategies in real-time to keep UFG on top of relevant search results. 
A few of the strategies we've utilized for UFG include:
SEO: Keeping their websites, blogs, and other content updated with relevant keywords to capture more traffic and direct it their way. 
Hyper Local Pages: Targeting prospective franchisees in specific areas where brands need to expand. 
SEM: Strategically investing in paid ads to amplify their message to the right audiences. 
Blogs: Regularly publishing SEO-optimized blogs that serve the dual purpose of keeping prospects updated and informed about their brands.
As franchise development experts themselves, the UFG team has had unique insight into how each of these strategies have helped to grow their business. See what they have to say about our partnership for yourself:
"I spent months vetting essentially every well-known franchise focused marketing company. After receiving detailed proposals and speaking with dozens of vendors, it was clear that Steve, Joe and the team at IDS were the best choices. Not only was their pricing the best, the IDS team were unequivocally the easiest and best to deal with on such a large project. Most importantly, after completing the projects, we needed to see a quick ROI. Bottom line, within 6 months of launching all sites and marketing plans, we had closed deals and positive ROI." – Jason Anderson, President, Venture X

"We've been working with IDS the last 5 years and we couldn't be happier. Even through all the uncertainty that's been surrounding the country in 2020, our IDS-created websites continue to generate great traffic as well as new franchise buyers." -- Brady Lee, COO, United Franchise Group
We couldn't be more excited that UFG and the Titus family have been recognized by Franchise Consultant Magazine. UFG stands out among our many customer success stories because we've gotten to know them so well over the years, and know that their integrity and business acumen make them a standout in the franchising space. We wish them many more years of success, and can't wait to see what they accomplish next.
If you're in need of franchise development services, contact IDS! We'll devise a custom plan for your franchise that's designed to help you similarly connect with your target prospects.