If you're an executive looking to ramp up your sales, there are a few B2B marketing trends that you should be aware of. Integrated Digital Strategies (IDS) specializes in B2B marketing, and we've observed that taking these trends into account can make a big impact on the efficacy of your marketing spend. 
Account-Based Marketing
Account-based marketing is geared towards helping you land specific accounts. Chances are, you have a company in mind that you'd love to do business with. As it happens, there are lots of ways that you can get the attention of that company – and others like it – by adjusting your marketing strategy. 
One proven method of capturing the attention of a small target audience online is through SEO and SEM strategies. Taken together, these help you to get your digital content in front of the right audience by leveraging their online search behavior. It's really not complicated, especially when you have an expert in your corner.
IDS can help you generate digital marketing materials that go hand-in-hand with strong SEO/SEM strategies to garner the interest of the companies you want to work with. We can even handle the sales funnel/lead nurturing process to guide them from awareness to decision.
Webinars
 In-person events and webinars are among the most effective ways to secure leads. These give you the chance to highlight your competitive advantages in a more personal way, meeting your prospects "face-to-face" and answering their questions.
Since in-person events likely won't make a comeback in the near future, webinars have become the best viable option – making them a key B2B marketing trend to capture in 2021.
Not sure where to start? IDS can help create and promote effective webinars so you can easily connect with interested prospects and showcase your competitive differences. With our help, you can be sure that your webinar will reach the strongest possible audience of prospective leads.
Web Analytics
B2B organizations use web analytics more than any other tool to boost the efficacy of their content marketing. When used correctly, web analytics can provide valuable data on who is viewing your content, for how long, and which content best compels leads to move through the sales funnel
It's possible to manage web analytics on your own, but partnering with IDS will give you distinct advantages over your competitors. We work with content specialists, designers, and developers all in one team. That means when we notice a trend developing based on web analytics, we can immediately prescribe a change in strategy and get it implemented quickly – keeping your digital content on top.
Documented Content Strategy
The number of successful B2B marketers with a documented content marketing strategy has been growing year-over-year because it works. Documenting your content strategy simply means making a plan for what you intend to publish, when, and why. Mapping this out ensures that each piece of content you produce is likely to have the maximum impact on your readers. 
The graph below illustrates that more and more B2B marketers are beginning to document their content strategy – illustrating that it works, and making it another key B2B marketing trend for 2021.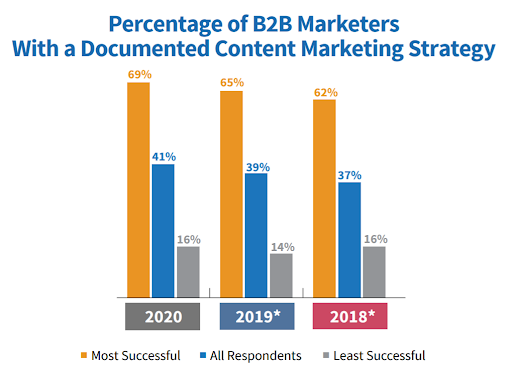 Effective Use of Organic Content Distribution Channels
 Social media and blogs are favorite organic content channels among B2B marketers. They give you the opportunity to interact with your prospects where they live online, and in a format that's easy to establish two-way communication.
The graphic below demonstrates that social media, blogs, and email are used heavily in the B2B landscape because they're effective. When you contact IDS, we can help create an organic content strategy from the ground up that will most effectively draw leads to your content.

IDS is consistently monitoring B2B marketing trends to keep our skills sharp, so we can offer our clients the best possible custom solutions. Get in touch with us today to see what we can do for your business. 
The Importance of a Comprehensive Strategy
Many companies invest in one or two B2B marketing services, but oftentimes they don't have a marketing strategy. That is, to say, they haven't coordinated their efforts between trade shows, web development, SEO, and so forth. A lack of strategy can lead to a disparate campaign that's targeting the wrong audience and content that's more focused on your company than your ideal prospects – losing their interest as a result. An uncoordinated campaign is a waste of your time and your marketing budget.
Taking the time to document and outline a comprehensive strategy can pay off for B2B companies. ClickZ's Jacqueline Dooley points out: "Nearly 70% of the top performing B2B marketers … noted that their organization had a documented marketing strategy compared with just 16% of the least successful marketers." 
While it's clear that a comprehensive marketing plan is important for B2B companies, many of them don't have the time to coordinate one on their own. That's where Integrated Digital Strategies (IDS) comes in. We provide B2B content marketing services (and much more) to help our clients meet their lead generation goals.
IDS Components of a Great Marketing Strategy
IDS is a digital marketing agency that creates customized, coordinated marketing plans for each of our clients. We take into account your unique needs to design a campaign that's right for you. We work with a team of web developers, graphic designers, and content creators to revitalize your digital presence and help you connect with the prospective customers you need. A few of our key services include:
Measurement Strategy

: Working with clients, we determine goals and objectives for our content and brand messaging. How can we present a unique perspective to introduce issues and solutions to your target audience?

Persona Development

: We'll determine who we're targeting to achieve our goals and objectives. We'll identify their interests and intent signals online.

SEO

: We'll find keywords that can fuel our compelling content, helping to raise brand awareness and purchase consideration.

Targeted B2B Content Marketing (e.g. websites and blogs):

We can create a wide range of content for your B2B company and deploy it so that it's highly-visible to your target audience. 

Email Marketing

: We'll help you engage with clients at each stage of their buyer journey. We'll create a system for storing their contact information and will reach out to them with relevant information on your services, promotions, and so forth. Email marketing is also a valuable way to stay in touch with customers after they've made a purchase. It's estimated that 20% of your loyal customers will make up 80% of your profits and staying in touch with customers is a great way to build loyalty.

Webinars:

Many B2B companies have relied on trade shows and conferences to network and find new clients, but COVID-19 has changed things on that front. IDS can help you develop webinars and create inbound marketing initiatives to drive attendance.
These are just some of the B2B marketing services IDS provides to help our clients expand their customer bases.
Learn More in Our eBook
Our eBook, The IDS Guide to Generating Highly Qualified Website Leads for B2B Manufacturers, delves deeper into the importance of creating a comprehensive digital marketing strategy.
Additional topics in the eBook include:
Integrating lead nurturing and the Flywheel concept, a new way of looking at the sales funnel.

Information on more strong digital marketing strategy components, such as form fills.

Characteristics of effective vs. ineffective campaigns.
You can download it here for free!
Contact IDS today for a free competitive analysis to show how our B2B marketing services can help boost your lead flow!