The International Franchise Association (IFA) held its annual convention in sunny Orlando, Florida, for a receptive audience filled with some of the most accomplished names in the franchise industry. Integrated Digital Strategies' (IDS) co-founders Steve Galligan and Joe Mohay attended the convention and had the opportunity to network with clients, participate in breakout sessions, and learn about the latest trends in the franchise industry. 
Franchising is all about collaboration, so we want to share a few of the takeaways that Galligan and Mohay plan to adopt in their IDS franchise digital marketing agency in 2020. 
The theme of this year's IFA convention was "Franchising's Future Starts with Us", what does that mean to IDS?
Joe: Franchise brands must be empowered to control their presence and their online reputation -- it can't always be done for them in their home-office. Brands need to have the right tools and be able to utilize those tools to grow their business. I feel like a company like IDS is going to be the ideal franchise digital marketing resource for these brands as they look to grow. 
What do you see changing in the mentality of the franchise buyer? What trends were mentioned that showed a shift?
Steve: There was plenty of discussion around Millennials, and how they are a driving force within the franchise space. In fact, young franchise founders were highlighted and nominated as top franchisors. Those younger people are coming in with innovative and creative ideas that the market is very accepting of. 
What was your most valuable takeaway from the 2020 IFA convention?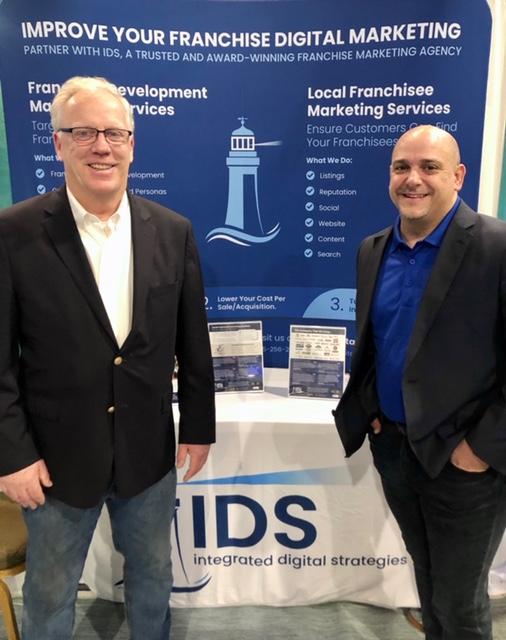 Joe: Learning how to adapt to the different types of stakeholders and team members you have in different organizations. Making sure you know how to communicate in the language that they are most receptive to. We want to lift each other up and work for the common good of their business. 
Another theme of this year's convention was a decline in the number of franchise broker deals -- where do you think this decline is coming from?
Steve: In the past, we did not have the wealth of knowledge and information we have today. Now, you can go online and do as much homework and research as you want. Franchisor's sites are enriched with content in the form of blogs, downloadable e-books, and now you can even see day-in-the-life videos of a franchisee.
Ten years ago, fifteen years ago, you didn't have that abundance of information coming your way. You relied on a broker to source and deliver the best analysis to you. It's very analogous to real estate; these days people can go online and do a full tour of the house before they even speak to a realtor. This theme has grown every year. When IDS first came into franchising the concept of inbound marketing was relatively new. It has now become the norm versus five or six years ago. 
"Collaboration" was a big theme of the convention as well. Could you touch on how you see that changing in this evolving world of franchising?
Joe: Prospective clients that came by our booth asked plenty of questions about how we are different. When they see the accomplishments, we've had they wonder, "How is this smaller nimble agency able to serve such a large variety of franchise organizations and maintain high client retention?" It's because we are collaborators. We are tied more into the business than a vendor, we don't like being called a vendor, that's not in our name. We are partners in their success, and we build personal relationships with our clients. 
What does IDS bring to the table that other agencies can't seem to match?
Steve: A big part of what we do is franchise development, and we have many ways to impart the value-proposition of a franchisor. It could be in the form of search engine marketing, social media advertising, or really good content on a website. 
You combine all of that together and two things happen: First, Google picks up on the content based on the search that is being conducted because there is great information that is relevant to what the user is looking for. Second, the person who is searching to buy a franchise is able to garner so much information from so many different places.
IDS enables them to do that. Our developers create great websites, our writers produce rich content, and our SEM analysts know how to attract the best franchise buyer.  We also have the technical acumen to optimize organically with SEO and raise our franchisors to the top of search results.   
Can you talk a little bit about the kinds of people that make up the franchise space? Who are they? What are their goals?
Joe: I find that the people in the franchise community all really like each other. They may be adversaries in business, but they don't come off that way. We all like talking shop, imparting ideas and knowledge, and we all like to share information that is working for our respective businesses. We are all here to support each other, serve our communities and keep the franchise industry growing. 
If you want to get in touch with our IDS team to learn more about our franchise digital marketing services, feel free to contact us today!