U.S. Lawns is the leading commercial landscape maintenance franchise in the country with approximately 190 franchisees across 250 locations. As we've supported U.S. Lawns in their digital franchise marketing efforts, we've gotten to know them as a company that goes above and beyond for their customers and franchisees alike. We recently sat down with Dave Wells, U.S. Lawns' Senior Director of Franchise Recruiting, to learn more about the powerhouse brand, their digital marketing strategies, and their plans for staying on top in the new world of franchise development. 
About U.S. Lawns
U.S. Lawns and their franchisees have been thriving for over 30 years — in part because they focus on doing business with commercial clients. Dave explains: "The green industry encompasses different areas, but we focus on the most profitable and sustainable: the commercial sector. Their business is more sustainable in all economic climates, and they have a budgetary line item to spend rather than their own discretionary income."
While their goal has always been to achieve 100% client retention, U.S. Lawns has grown into the industry giant it is today by supporting their franchisees in every area of operations. In Dave's words, "I've been in franchising for 20 years and I've never seen anything like it. U.S. Lawns is support-intensive, we support franchisees during their launch and after. Independent operators struggle to reach a level of sustainability because they can't be involved in every aspect of the operation. We put processes in place to help rise above the day-to-day operation and allow them manage multiple crews."
How IDS'
Digital Franchise Marketing
Helps U.S. Lawns to Grow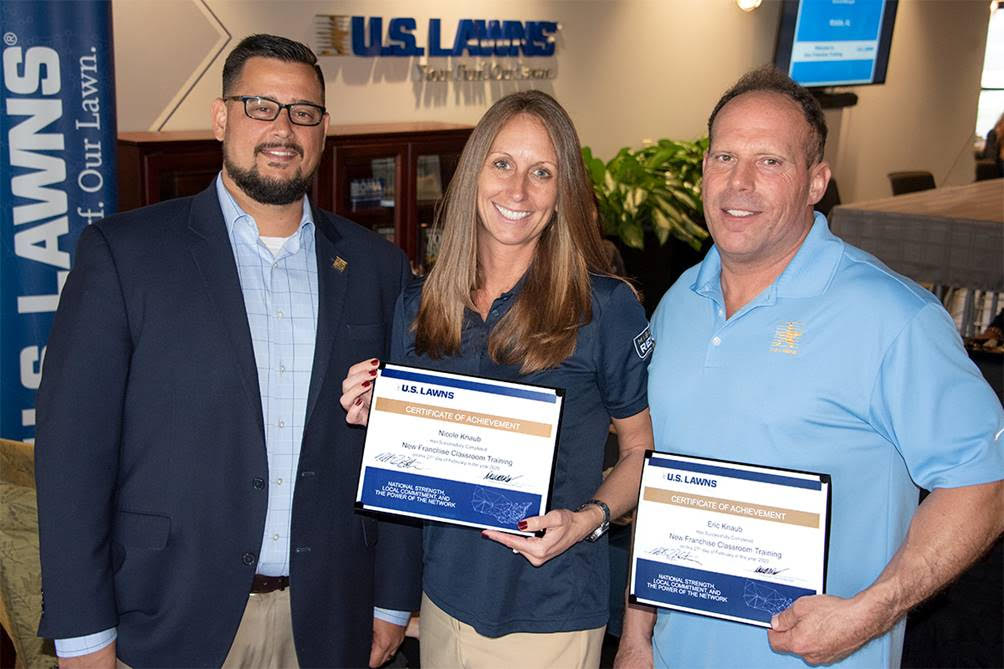 It's impossible to overstate the power of digital marketing in the franchise space: Dave estimates that 99% of U.S. Lawns' franchise leads learn about the brand online, and do online research before engaging with their team.
That being said, the U.S. Lawns process goes a lot deeper than simply finding franchisees who are financially qualified; they're seeking franchisees who share their values and are looking for a long-term partnership. "This is a relationship sale — we're selling a team to the franchisee, and that's a team that includes our network of franchise owners."
This is one of the most valuable services IDS provides U.S. Lawns. Our inbound digital franchise marketing efforts are designed to communicate a franchisor's culture and values to prospects as they move through the sales funnel. We don't just want to get U.S. Lawns lots of leads: we want to find them the right leads. Dave observes:
IDS has been a great company to work with in that they understand the need to tell great stories and tell stories appropriately. They help with lead generation efforts however they can to develop a conversion pipeline.
U.S. Lawns and the New World of Franchising
There's no question that the business world is changing, and it's unclear how things will look in the future. Happily, as a B2B company, U.S. Lawns franchisees continue to provide valuable landscape maintenance services to their clients. On the franchise development side, Dave and his colleagues rely on their company values as they plan for the future. 
When asked what U.S. Lawns is doing differently within their franchise sales processes, Dave reported:
The current situation is encouraging us to rethink our process entirely. We're looking at long-term solutions to this short-term crisis. Inviting candidates into the office for discovery day is impossible today, but we're looking long term — we might not need to do that at all! We can still relay culture and values by redesigning processes to incorporate more video, conference calls, and webinars. 
How do we maintain the personal interaction? It can be a challenge. But we're not looking to attack coronavirus head-on. We're not going to play to the masses or capitalize on the situation. We take care of our franchisees first and foremost, and let them tell the stories about their businesses. 
Dave also observed that many prospective franchisees are, unsurprisingly, a little more cautious about investing in a business: "People are more cautious, but the last thing we want to do is pressure someone to make a decision in a situation that creates discomfort. We let the brand speak for itself. Franchises are still operating well!"
That being said, Dave is optimistic about the future: "There are lots of questions about the world in general, including franchise development. Still, [more prospects] will be looking to franchises as a solution to investment and career prospects. Given our recession-resistant model, and being as we're an essential service, we think we'll have a really good story to tell. We look forward to getting that story in front of many prospects."
U.S. Lawns is managing the changing economy with the same integrity they apply to their everyday business. Their franchise network is one of the strongest around, and we're looking forward to watching it become even more so in the years ahead. 
Integrated Digital Strategies is a franchise digital marketing agency that creates custom suites of services for all clients. Contact us today to learn how our team can tell your brand story to the audience of prospects you've been looking for.