While most franchise executives share a goal of awarding new franchises, they don't always understand how a well-developed lead nurturing strategy contributes to the franchise marketing process. The term "lead nurturing" refers to direct, or indirect, educational conversations that happen between a sales team and a prospect, from the inquiry stage until the lead is actively ready to make a decision. An ill-informed prospect will never be ready to commit, so a good nurturing strategy can make or break a deal. 
Why Your Franchise Needs
Lead Nurturing Services
Most B2B buyers are 57% of the way through the buying process before they ever speak with a company representative. That means your prospects have likely already educated themselves on the basics of investing in your brand and have identified the top reasons why they either like - or are concerned about - your franchise. Now, they need you, as a franchisor, to address their pain points -- even before they think to ask you the questions. This may seem impossible, but we assure you it's not. 
By taking some time to audit your brand, identify your key buyer personas, and list your top differentiators and the most frequently asked questions about your model, you're halfway there. If you put the time in it will pay off in more leads, and more qualified leads. Unfortunately, for franchisors, time is not always available in abundance. And as the FranConnect graphic below demonstrates, once leads become stale, only 15% of franchisors have campaigns in place to go back and nurture dead leads, allowing potentially viable prospects to slip through the cracks.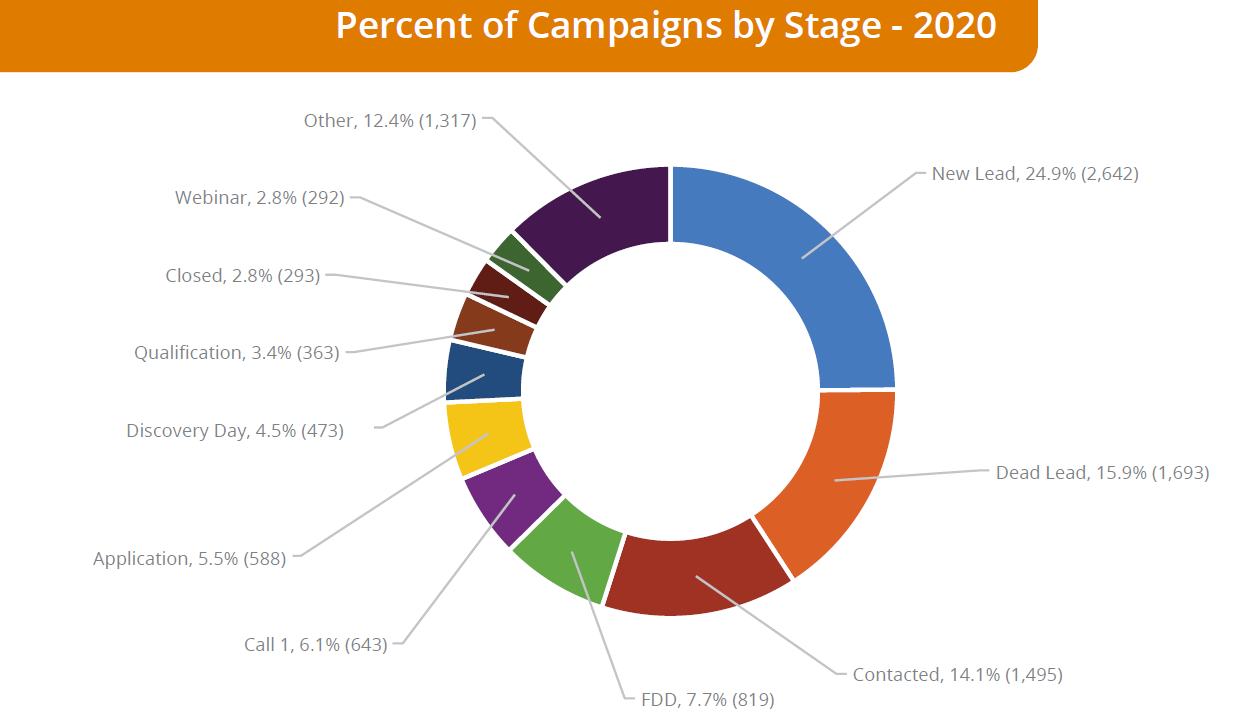 Around 43.9% of new leads drop off before they take part in a second call1, indicating that campaigns for new leads are especially important in their early stages. Slow response times on the part of franchisors is one of the most significant factors leading to the drop in interest. 
When you partner with a firm like IDS for lead nurturing services, we do the nurturing for you and give you back your time. We don't waste time on ineffective prospecting – we handle communication with your leads quickly and effectively, ensuring you won't lose early leads because of slow response times. 
If your franchise is losing new leads at a high rate, it's probably time to revamp your lead nurturing program.
How to Nurture Your Franchise Leads
When you create a comprehensive lead nurturing strategy, you'll want a variety of content to walk leads through the sales funnel, including:
Blogs: Websites are one of the most effective ways to drive new leads – in fact, nearly 29% of deals are attributed to websites1. Many referrals arrive at websites via online searches and PPC campaigns, which often lead to blogs. An interesting, relevant, and up-to-date blog is a great way to drive traffic to your website, and a great way to nurture leads. Prospects who trust your content to educate themselves about your brand and your industry over time will already be well into the sales funnel before they contact you.
Email drip campaigns: These can be tailored to leads in every stage. One of the best things about email campaigns is they give you a chance to connect directly with leads about multiple topics that are likely to be interesting to them. A creative drip campaign can be especially useful in reviving interest from dead leads. 
Webinars: In our post-COVID world, webinars are being used for virtual discovery days, conferences, and even virtual conventions. They are useful for generating new leads as well as moving existing leads further down the sales funnel. Only 1% of leads will drop off after attending a webinar and reviewing your FDD, so a great presentation can go a long way towards closing the deal. 
IDS creates custom lead nurturing programs for franchise development and B2B companies. Contact us today to learn more about how we use these strategies to get the best results for our clients. 
References: