Our entire staff stays up to date on changes in digital marketing by taking part in regular, targeted professional development, and every member of our team is charged with keeping up with the latest in their areas of expertise. This is an important benefit to our clients, who can rest easy knowing that every facet of their campaign has been carefully strategized by experts in many areas of digital marketing.
By working with best-in-class partners in each discipline, we integrate the latest technology at the best value possible. The advantage of our strategy is that we offer constant upgrades and advancements in the emerging digital marketing arena. We then design custom integrated programs representing a solution that addresses the specific goals and objectives of our clients.
At Integrated Digital Strategies, we know that your success is our success. Designing the best digital marketing program requires long-term thinking. Our goal is to provide you with a strong return on your investment with us, and we strive to establish lasting relationships with our clients. IDS measures progress in years rather than months.
Some of the Benefits of Franchise Development Marketing with IDS: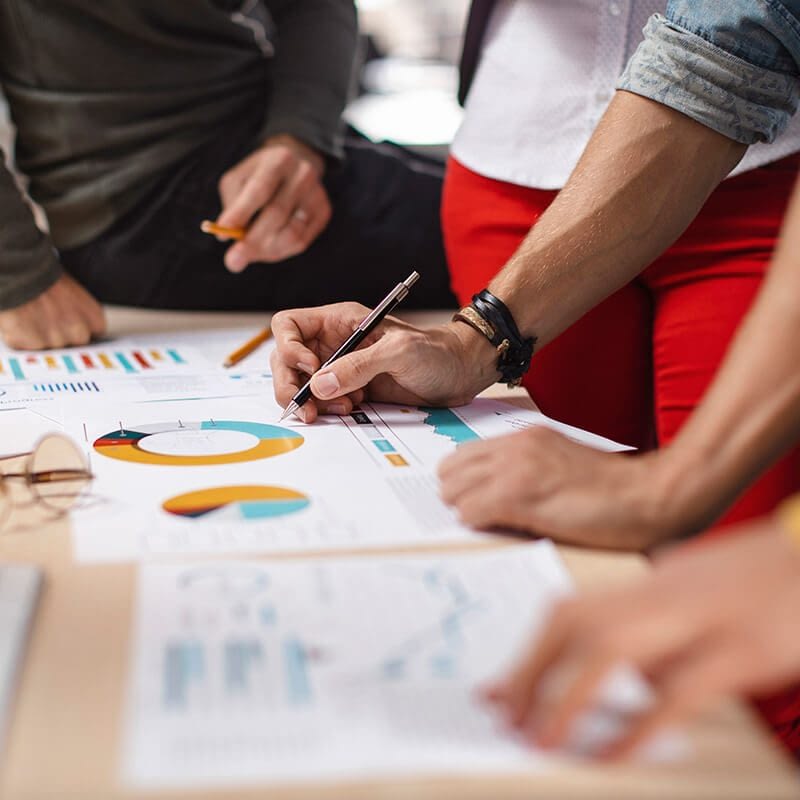 HOW WE ATTRACT YOUR CLIENTS
Franchise Website Development
Every business needs an effective and attractive website design – getting one shouldn't be a complicated task. At IDS, we provide a complete solution. It starts with a sound strategy, followed by a beautiful design and a talented development team that brings your new website to life. 
Content, Branding, and Personas
Quality content on your website – information that prospective and current clients will find useful and engaging – is a game changer. When visitors navigate your site, it's analogous to them walking into a store. If you have good site content, it's the same as having shelves stocked full of inventory. Conversely, a website that lacks relevant and engaging information is like a store that has little or nothing to sell.
Search Engine Optimization
Search engines like Google, Yahoo, and Bing all want to deliver the most up-to-date and relevant information to anyone searching the web. Some factors that affect your ranking include website speed, user behavior, URL structure, links, on-site text, social media signals, and an ever-changing list of other factors. Google, for instance, changes its algorithms up to 40 times a month, so it takes a true SEO professional to manage your website. 
Pay-per-click is a key part of any inbound marketing strategy. When paid advertising is combined with SEO, you get more impressions and a higher click-through rate, which improves conversions. Businesses that advertise their products and services to consumers already know that SEM, paid social graphics, and display ads are a great way to find your ideal client.
A company's online impression is made up of more than its website. Social media and reviews on independent sites can make a huge difference to potential customers, who see these as authentic representations of a brand. At IDS, we help our clients manage their social media and online reputations in order to present their best, most authentic selves to potential customers. Social media and reputation management solutions complete your business's online picture.
If you come to us with a website already in place, we'll conduct web data analytics to see which pages people are visiting most frequently and which keywords got them there. If some of the things you're already doing are working, we'll want to preserve those elements as we build your new content. Similarly, we'll know not to replicate the things that aren't working. We also offer monthly keyword, lead generation, web analytics, and paid advertising reports.
On-Location Video Production
IDS will produce custom videos that best represent your business, product, or service. We will also create a custom YouTube Channel for your company and distribute that video content across social channels like Facebook, Twitter, LinkedIn, and Google+. Search engines also love video and will often present them higher in search rankings than they would your static website pages.
If your local business isn't showing up in the local pack of a Google search, you are basically invisible! That's why your business needs local search engine optimization from an experienced team. At IDS, we have over 30 years of experience helping local businesses across the country. We know what works and what doesn't. We also keep up with the latest trends and "Google-approved" ways of positioning your business on the first page of a Google search! 
Retargeting Ads: An Essential Part of Digital Marketing
An essential part of the inbound philosophy is finding your prospects where they spend their time online. Retargeting ads are a way to ensure that your ads are seen by the people who want to see them.
Jason Anderson
Chief Strategy Officer, United Franchise Group
I spent months vetting essentially every well-known franchise focused marketing company. After receiving detailed proposals and speaking with dozens of vendors it was clear that Steve, Joe and the team at IDS were the best choices. Not only was their pricing the best, the IDS team were unequivocally the easiest and best to deal with on such a large project. Most importantly after completing the projects, we needed to see a quick ROI. Bottom line, within 6 months of launching all sites and marketing plans we had closed deals and positive ROI.

Brandon Moxam, CFE
Vice President of Marketing & Operations, U.S. Lawns, Inc.
Working with IDS has been a positive and refreshing experience. They understand the value of establishing a true partnership. Too many digital solution companies offer cookie-cutter services with little effort put into understanding the values of the customers they serve. From the start, Steve, Joe, and the rest of the IDS team took the time to learn our business. They deeply understood our values and goals, and have helped us better communicate our story to our target market. Equally important, they have produced tangible results for our website. Not only is our site one of the best-looking sites in the industry, it's creating a high level of user engagement and lead generation for our franchisees. If you are looking for a results-driven digital team with personality, IDS is the company for you.

Ken Peterson
Founder & CEO, Apricot Lane Boutique
We engaged IDS to design a new franchise sales website with content focused on SEO optimization. They also created and managed ongoing blog content. IDS created franchise-targeted personas and marketed to those personas through Google Ads and Facebook while tracking stats and ROI. Lastly, they developed a Facebook strategy to attract leads for resale opportunities. We could not be more pleased with how IDS has wrapped their arms around us through each process to satisfy our needs. Their communication is beyond expectation and they've introduced us to other resources which we've also engaged with. IDS is a true partner investing in our success which makes for a sustained long term relationship.

Todd Chapman
Director of Franchise Recruiting, U.S. Lawns, Inc.
We have been very satisfied with the results IDS has delivered. I researched multiple companies when looking to revamp our franchise development website. From the start, Steve, Joe, and his team shared the radical personalization our team believes in. They really took the time to understand our culture and brand which showed in the final product. In addition, our lead flow increased 91% in less than a year. I highly recommend IDS!
Let IDS Help with


Your Franchise Digital Marketing!
We can help you leverage the power of SEO, social media, digital advertising, and engaging content & video to unleash your franchise brand.